"Wine enters through the mouth,
Love, the eyes.
I raise the glass to my mouth,
I look at you,
I sigh".
-W.B. Yeats –
Raise your glass
I can name many reasons to raise my glass, but the main reason for me to raise a glass is to celebrate love and life. I like to raise my glass when I'm in good company, surrounded by my loved ones; my family and friends. Celebrating love and life with those we love the most but hardly spend enough time with. I'm not ashamed to tell you that I like to drink a nice glass of wine. To me it doesn't matter if it's white, red or even during the summer, a nice glass of rosé. It depends on the mood I'm in. Mostly red in the autumn and winter, white or rosé during the early spring and summer.

I immediately add to this confession that I'm certainly not an alcoholic, definitely not. To tell you the truth; I have never been drunk in my entire life. Believe it or not but it's true. I have been tipsy, but never drunk.
And it will never ever happen to me because I'm terrified of losing control: not knowing what I'm doing, placing myself in awkward positions and being embarrassed, no way. That's something that frightens me.
Writing this down I realise that being tipsy may also be embarrassing? You see when I drink a little too much, I dare to say things I normally wouldn't say. The alcohol makes you feel more relaxed, makes your tongue flexible and the speech fluid.
But enough of that, back to the wine.
I'm not a connoisseur. As I told you before I like red just as much as white and on a sultry summer evening a cold glass of rosé is a real treat to me. I have my preferences, but if you put a couple of glasses on the table and ask me which is which I wouldn't know the different brands.
When I taste it, I decide then whether I like it or not and if not, I'll choose another one.
Many years ago, and even recently I did a wine tasting course and learned a little bit about the different wines, but that's it.
Gavi
In the little town I live in we have a wine bar called Gavi. The store is divided into a shop and a wine bar. Every wine you taste can be bought in the shop.

And that is what's brilliant about this bar. At the back they have a machine with six bottles of white wine and six bottles of red wine. On top of the machine you can read a little bit about the wine and it also tells you which glass each wine should be used with. Every once in a while there will be other brands in the machine.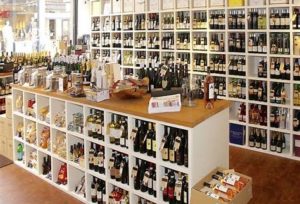 You buy yourself some sort of credit card, put money on it and with your glass and your card you can fill your glass. If you can't choose between the different wines you can decide whether you take a sip, a half glass, or a full glass of wine.
It's this wine bar we often visit with some friends on a Friday or Saturday evening to celebrate the weekend, our friendship and all these other things worth celebrating (and I can assure you we always find something to celebrate…).
Together with the wine we often order a plate with all kind of cheese and sausage, olives and other nice bites.
We drink, we laugh, we talk and share our thoughts about a lot of subjects. And before you know it we see the staff cleaning up the place and it's time to go home. Nine out of ten we're the last ones to go home.
Lose the booze
But to show you and my family and friends that I'm really not an alcoholic, and I can do without my glass of wine, I decided to support Bloodwise with their action; Lose the booze (for those who don't know what Bloodwise is, I refer to my post: Peakers).

They challenged everybody to not drink a single drop of alcohol during the entire month of January.
I thought: I can do that and on the first of January I stopped drinking alcohol.
But not drinking alcohol wasn't enough for me so I took a bet with myself; for every glass of wine I wouldn't drink I would put €3.00 in a jar and donate the money to the Dutch Peaker Foundation, and they will see to it that the money will be donated to Bloodwise.

In the first couple of weeks there were a lot of New Years drinks I had to attend and I was amazed how many people offered me a glass of wine because I normally would ask for one. I had to explain my reasons for not drinking alcohol.
Some time later in the month I got a severe toothache and the dentist gave me antibiotics, so I wasn't allowed to drink alcohol. After that me and my love were invited to dinner by another Dutch Peaker and she made us a really nice MPC meal. That was the first time I really missed my glass of wine. Imagine you're invited for diner and three people drink a nice glass of wine with their meal and you're the only one drinking a non-alcoholic drink.
But there was another positive side effect. You see I'm a woman of a certain age and drinking my glass of wine keeps the stove burning at night, if you know what I mean! When I asked my sister if she recognised this she told me it never kept her from drinking a glass of wine, I agree with her.
And now January has come to an end and I have raised €51,00.
Has my month been less pleasant as a result of not drinking alcohol? Not in the least. Do I need wine to celebrate love and life? Most certainly not. Did it tell me something about my drinking habits? Haha, I don't know…
But I do know that in a few days I will be raising my glass to my 52th birthday!