Those are the colors
Those are the colors
Red are the rooftops
Blue is the sky
Yellow are the culms
Green is the grass
White is the sand
Those are the colors of Schellingerland
Every municipality in the Netherlands has it's own crest. This little poem describes the colors of the flag of Terschelling. The colors are not only to be found on the flag, but also on the crest of Terschelling. The Island belongs to the region Friesland.
There are almost 5000 people living on the island, and I can assure you in the summer time during the hollidays that amount is much, much higher. The island is very popular among young people who go camping together. I read somewhere that during this period the amount of people on the island is tripled.
Every year since 1981 the island has a famous festival, Oerol, which lasts 10 days and attracts about 50.000 people. Another famous thing on the island is the Naval College Willem Barentz. It has been there since 1875. This College offers study programmes for Ocean Technology and Maritime Officer, but it also takes part in several research projects.
Red are the rooftops
When we asked other Peakers to organize a walk in their backyard, I received a message from Antje.
She said she would love to organize a walk but thought it might not be possible. To visit Antje you have to take the ferry and most people won't drive up to an hour and a half to go on a ferry for two hours (or one if you take the fast ferry), just to go for a walk.
Antje haven't you learned anything from us in this past year? Everything is possible. Even organizing a real Walking Peakers weekend on your island, Terschelling. Three days of walking, talking, doing some yoga and listening to one of our own Peakers. And of course, let us not forget all the fun and laughter we will have with each other.
It felt like a schooltrip when most of us left home on Friday. In the days prior to this trip a lot of messages flew back and forth. What should we take with us, how much luggage was permitted on the ferry, did we have the same ferry, who was arriving at what time, etc., etc.? I can assure you it was nothing compared to a school class, and I should know for I have been a teacher for a very long time! And I did a lot of schooltrips!
Much to our supprise, every Peaker arriving on the Island was picked up by Antje. Finally on Friday night everybody was on the island. Everybody had a roof over their heads. Let the party begin.
Blue is the sky
The weather forecast for Saturday said it was going to be a very bad day with heavy showers and strong winds blowing. But hey, we are Peakers and we don't let ourselves get stopped by some bad weather.
We went walking, having every neccesary thing like raincoats, rainlegs, caps and umbrellas put in our backpack. We prepared for everything that was coming!
Antje showed us on a map where our walk of today was going to be. She told us, it would mainly be on the west side of the island.
We saw some beautiful sights of the island and now and then Antje told us a little bit of history.
And blue was the sky, for most of the day!
Yellow are the culms, Green is the grass
It's the end of September and I expected to see the first signs of autumn in nature. But apart from all the beautiful mushrooms, there were little signs of transformation. The temperature was still pretty high for the time being.
I have this thing with mushrooms, especially those red ones with the white spots. My fantasy overwhelmes me. All these dwarves running around with paint cans and paintbrushes in the middle of the night to make these mushrooms look as beautiful as they do during the day!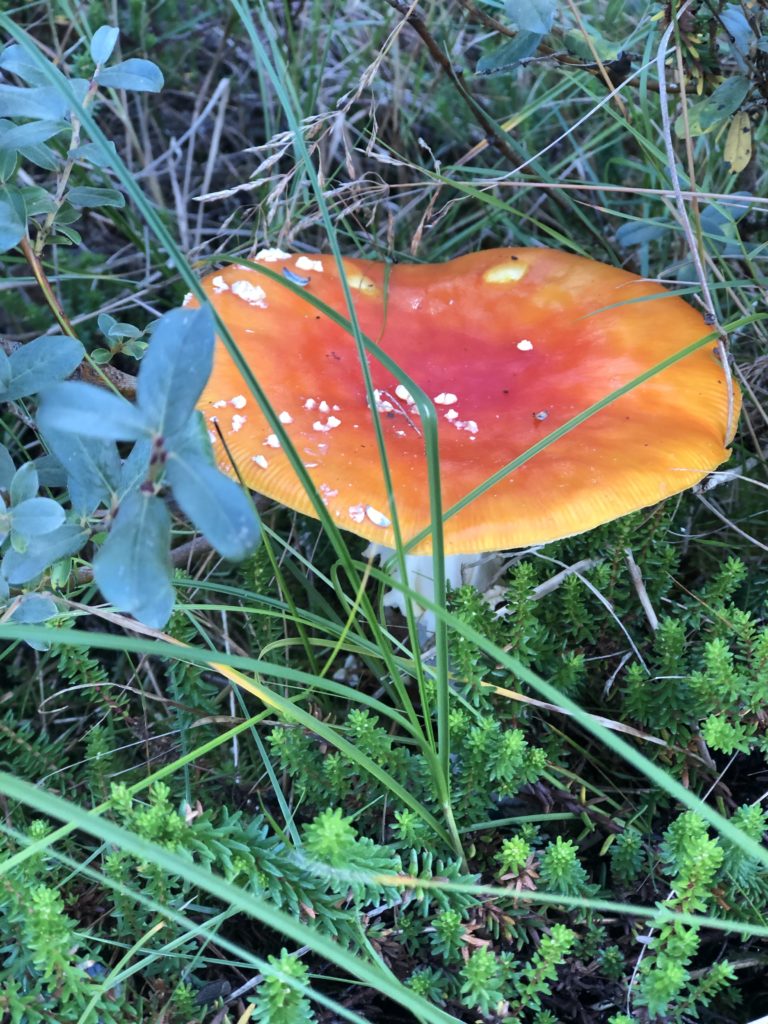 But there was more to be seen on this beautiful island. Only just departed we had a lovely view on the harbour of Terschelling. Never knew this harbour was the only natural bay in the Netherlands.
As we continued our walk, Antje gave us a lot of information about the island and its inhabitants. For instance did you know that there are 85 bunkers on the island and four of those bunkers are appointed to be project bunkers and now have a museum function?
Most of those four bunkers were covered with sand and it took a lot of volunteers, ceanes and shovels to remove over 4000m³ of sand. After setting up the original electricity wiring it is possible to do a guided tour in these bunkers.
When we arrived on the West side of Terschelling and stood there on a beautiful vantage point. I was surprised to learn a little history that left a heavy impression on the island. On top of this vantage spot there was a plaque of remembrance to the Second English War. In 1666 when we thought we had beaten England, they fought back, and on Holmes's Bonfire they, not only destroyed a merchant fleet between the islands Vlieland and Terschelling, but also destroyed and burnt down the city Ter Schelling.
Terschelling is also famous for its lighthouse, de Brandaris.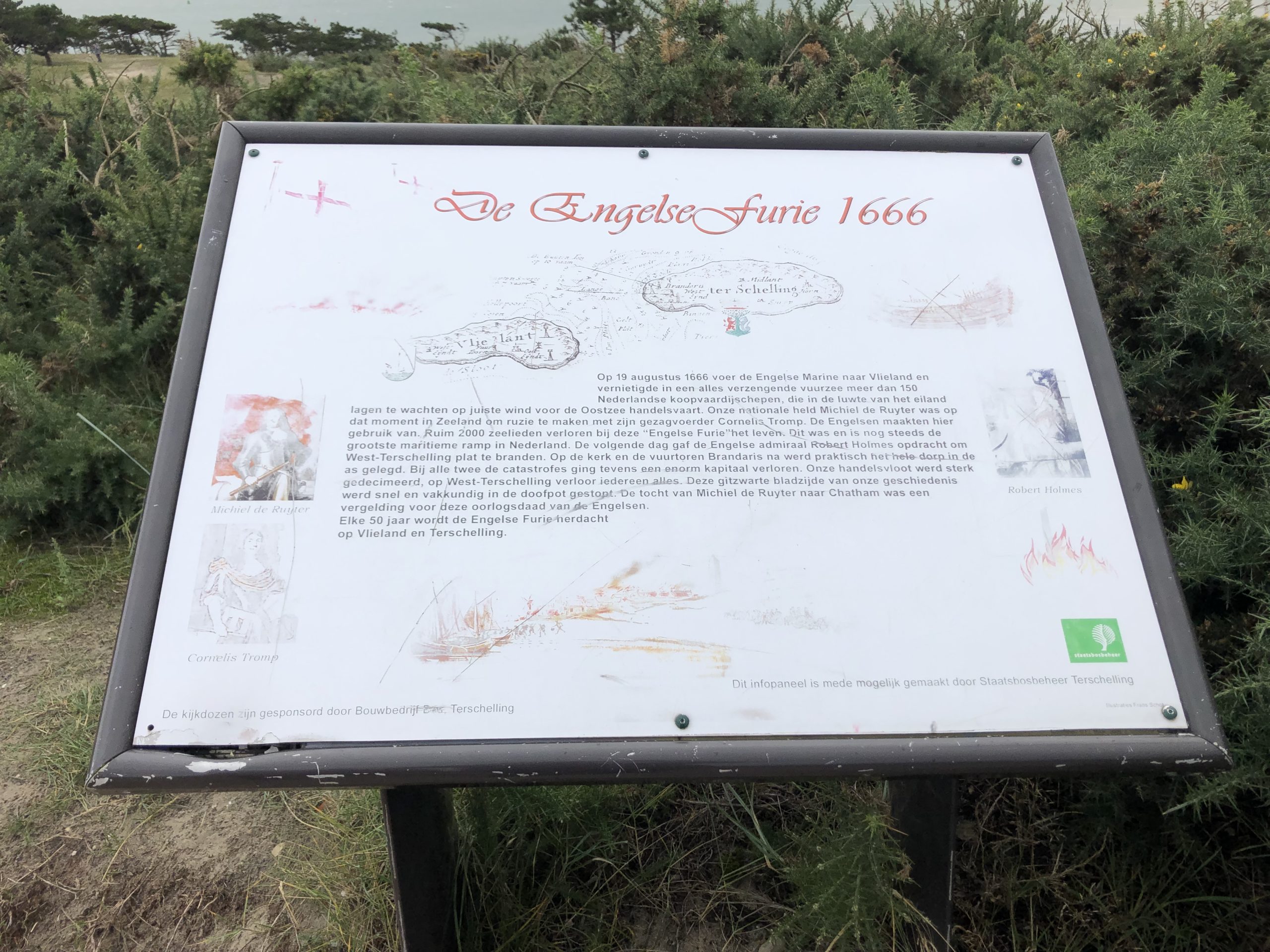 In 1323 the Medieval church Brandarius was built. The tower of the church was built as a beacon for the ships that sailed through the Zuiderzee to Amsterdam. When the church no longer existed, the lighthouse was built in 1592. It took two years to complete it.
White is the sand
As soon as the idea of this weekend was born, we were told by one of our Peakers that she had a very dear friend living on the island and this friend gave, among other things, yoga classes. After having done this in Edinburgh we thought it was an awesome thing to do again. That was a good thought because on Sunday morning it was raining cats and dogs, not exactly nice weather to go walking!
As you all know yoga teaches you to control your mind, your heart and your body. I was surprised in Edinburgh how yoga filled up a gym with over 200 Peakers and today I was surprised again. You could hear a pin drop and after two hours I felt so relaxed. My headache from Saturday night gone!
In these past few years being a Peaker, I have met a lot of people and made a lot of new friends. Many of these new friends helped me to heal from my burn out. One of them is Brenda. Brenda taught me a lot about food, about hormones, the combination of food and hormones, and the effects on your body. She made me a custom mealplan.
For a long time I wanted to share this with the other Walking Peakers, and what better place was there than this weekend, to ask her to tell us all about it. Did you know that most of us get too much sugar during the day, more than we need and more than you would expect. Research confirms this, and by making us aware of this and showing us how to read the labels on products she gave us a very interesting work shop.
Those are the colors of Schellingerland
Before you know it, the weekend is at its end, and we all had to go home. But not before we thanked Antje for an awesome weekend in which she showed us her backyard. Mireille, thank you for a relaxing yoga class and Brenda, thank you for inspiring us to be critical ofwhat we eat. These people coloured our weekend!