"The pain of parting is nothing to the joy of meeting again."
"The pain of parting is nothing to the joy of meeting again."
On my way
It's early in the morning when I drive through the sunny landscape of the Netherlands. I'm on the road to Waddinxveen, a place on the west side. About 30 km from the Hague or about 22km from Rotterdam.
Waddinxveen, were we finally, finally get a change to meet again.
I'm not the only one on the road this sunny Sunday morning in July. Lots of cars with bikes on their towbar are on the road, finding a nice place to cycle.
Did you know there are almost 23 million bikes in the Netherlands? And did you know that 1,8 million are electric?
I use to drive a lot for my work, but there's a big difference between driving on a weekday or on a Sunday during the Summer Holliday season.
Today, people are in no hurry. They have all the time of the world. They drive for fun, going to places to walk, cycle, going to the beach or visiting a historical city.
I am used to the people driving for their jobs. Being in time, being in a hurry, traffic jams and bottlenecks. But not today, today I have to adapt to the Sunday traffic. Nice and easy, hands on the steering wheel, eyes on the road and the cruisecontrol on the speed limit.
Restart
As I said, finally we have a change to meet again. The last walk with the Walking Peakers was on the 8th of March.
We did a beautiful walk down memorylane of one of our Peakers, Vera. Vera showed us the surrounding in which she grew up, Wormerveer.
Who would have thought at that time it would last 4 months till we meet again.
In the Netherlands the rules for Corona have changed since the 1st of July and at this moment we have to keep the 1,5m distance as much as possible. Outdoors groups of 250 persons are allowed, if you keep your distance. Children don't have to keep to the distance rule, nor do young adults until the age of 18 while around each other. Although the last group still has to keep 1,5m distance to adults.
Observing these rules we were able to organize a restart for the Walking Peakers. Linda, Antonette and myself found a beautiful place in Waddinxveen, were one of our Peakers lives. Wilma and her family own a beautiful farm.
This morning I was not the first one to arrive. By the time I got there a small group already gathered in front of what Wilma calls her, Pipo home.
It was a bit awkward. You feel like shaking hands with new Walking Peakers and introducing yourself properly. You want to hug and kiss those you haven't seen for so long, but you know none of this is aloud. So I try and keep my distance. Luckely Antonette made us nameplates.
A little bit of walking and yoga
We wouldn''t be called Walking Peakers if there wasn't a bit of walking involved in the program today. To keep the distance, we decide to walk in two groups. The groups walk in opposite directions and pass each other somewhere halfway.
I think this was my first walk where I was present but didn't walk. How did that happen?
Well for the first time in three years, due to Corona and the gym being closed, I decided to follow the MPC program. So far so good until the 2th month. A lot of cardio was in store. After years and years not having done any running I decided to run around the garden table ( it's a pretty long and large table and don't laugh!) to get my cardio done!
For those who do not know me, my left leg is not that good. I will spare you the details but running is actually not an option but I did it anyway.You can guess what happened. I got heel spur. So stupid!
I stayed behind with a small group of other Peakers and we did Yoga. Thank you MPC for bringing this into the program. I feel really good doing this on a regular basis.
Group Picture
In the invitation we asked everybody to bring their own lunch. Sitting on the grass, all on a plaid, we enjoyed eating our own lunch.
Overlooking the group, I saw happy, smiling faces. They were all talking and eating and so happy seeing each other, it made me so proud!
And of course that had to be captured in a group picture. But how do you make a group picture of 33 Walking Peakers and still keeping the distance of 1,5m?
I think our photographer did a pretty good job.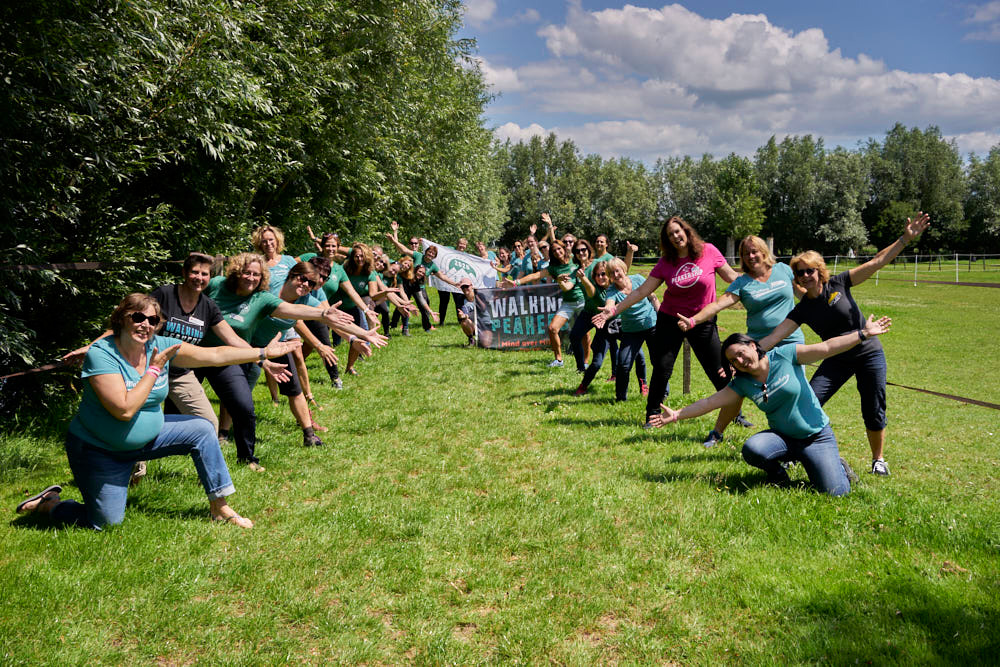 Horse and inspiration
Wilma lives on a large farm. She helps her daughter Lynn who runs her own business; horse and inspiration. Actually the whole family plays a part on this farm.
Lynn trains horses and their owners. The goal is to have a better communication between the horse and its owner, all on a basis of respect and trust.
She can also help when a horse is afraid of all kind of obstacles or doesn't want to be touched for example.
This afternoon she gave us a demonstration to show us what her job is all about. She even invited some of us to try it for ourselves.
It was wonderful to see, how important body language is, not only between humans but even so with animals and humans.
Lynn, it's great to see with how much passion you work with your horses!
And so a beautiful day, at a beautiful place with beautiful people came to an end. I had the feeling of being reunited with my family after a very long time. Thank you Walking Peakers and in particular Wilma and her family for being our host today. Driving home it made me realize that the pain of parting is nothing to the joy of meeting again!
Thanks to Pauline Engelberts, Linda van den Ham, Antonette de Groot Klootwijk, Marit Phillipson, Caroline van Houwelingen, Jolanda Luijendijk, Ilse Schaffers, Mila Ignat, Fia Dijksma, Vanessa Viva Koomen en Stefanie Ross for letting me use the wonderful pictures you all made.