It's all about camping and a new adventure
If we've only got this life

And this adventure, oh then I

Wanna share it with you

Coldplay, Adventure of a lifetime
People who know me will probably tell you I'm a spontaneous type. It all depends on my mood and the situation, but I can do things and think later, ohhh what have I started! Well this adventure is one of them. Understand me well, I don't regret a single moment of it.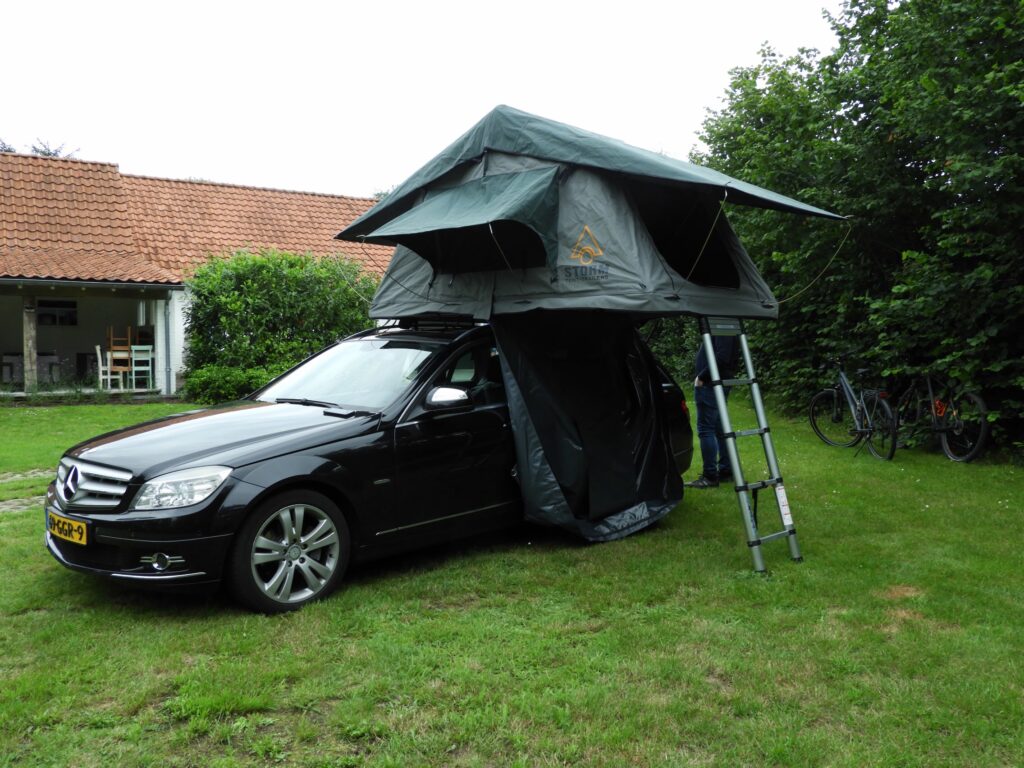 It's all about camping
It was sometime in October when our dear friends Vera and Henry invited us to a camping fair. They had an interest in roof tents and wanted to see what was on the market.
I hear you thinking, roof tent? Never heared of. You're not the only one. We neither until we saw the first one on one of our walks last summer. We are no strangers when it comes to camping but a roof tent?
Our camping life started 27 years ago when we rented a caravan to go on our honeymoon. In little more than three weeks we drove all over France, from north to south, from east to west. Wherever the road would lead us. After that many years followed with a folding trailer. Leaving home in the middle of the night and driving all the way to France, with two kids in the back seat sleeping. For four weeks we helped out our friends with all kind of outdoor activities. My love as an instructor and me doing the groceries and cooking the meals for the whole team. Those were wonderful years with a lot of fun. After the business stopped in France we sold our folding trailer, rented mobile homes in Czech and borrowed the caravan of our neighbours in Slovenia. Most of the years following there was camping involved.
Roof tent
Two years ago we walked the West Highland Way in Scotland, stayed in a lot of Bed and Breakfasts, or small hotels, but camping kept drawing us, and then all of a sudden we were walking on a camping fair with lots of campers, mobile homes, folding trailers, tents and roof tents. Those friends I was talking about, they already decided they would buy a roof tent.
We were just inocent bystanders (ahum). There was quite some difference between the various roof tents. At the second last dealer they thought they found what they were looking for and were about to buy when I said, let's not buy, walk around one last round and then decide weather you're going to do this or not. I said it with a reason. Henry told me he never thought twice about anything and when he wanted to buy he simply does. I recognized myself but somehow my feeling told me not to.
And that's how we met Marlies en Evelien from Storm Tent Trailers. I can guarantee you that even if you do not intend to buy a roof tent at all, these ladies have the enthusiasm to convince you to buy one. They talk from experience, go camping with it themselves and under all kinds of circumstances. They s peak from the heart. That's when I dropped the question, what if we buy two of your roof tents? Do we get a discount? We did and a new adventure presented itself.
On top of the roof
Just like so many things, Corona threw a spanner in the works and it took a lot longer before our roof tents finally arived in the Netherlands (all the way from China). Our original plan was to cross the ocean to South England, drive all the way up to Scotland. And maybe somewhere in England it would be possible to take a ferry to make the crossing to Norway. Well that ain't going to happen this year.
Change of plans
Instead we went camping in the Netherlands. The youngest daughter of my sister and her family have a beautiful house in Haaksbergen. I think their lawn is probably as large as a football field. Well almost! We were allowed to choose a place ourselves, hahaha.
The advantage of this luxury campsite is dinner was almost ready as we arrived. After a nice meal, and a lot of drinking and talking we finally went to bed. I climbed up the stairs to actually spend the night in our roof tent. The first night is always a bit exiting. Different environment, different souds. I dont't know if it was the wine or just a good matras and enough space to sleep, but I woke up the next morning fresh as a daisy
Cycle around Haaksbergen
After a MPC responsible breakfast, Protein Pancakes with fresh fruit, we took our bikes and went for a cycle around Haaksbergen. Haaksbergen is part of a township in the provence of Overijssel. This particular part in the provence is better known as Twente (at least among the Dutch People). It is almost on the border with Germany. In this part of the Netherlands you find beautiful hiking and biking trails.
Signposts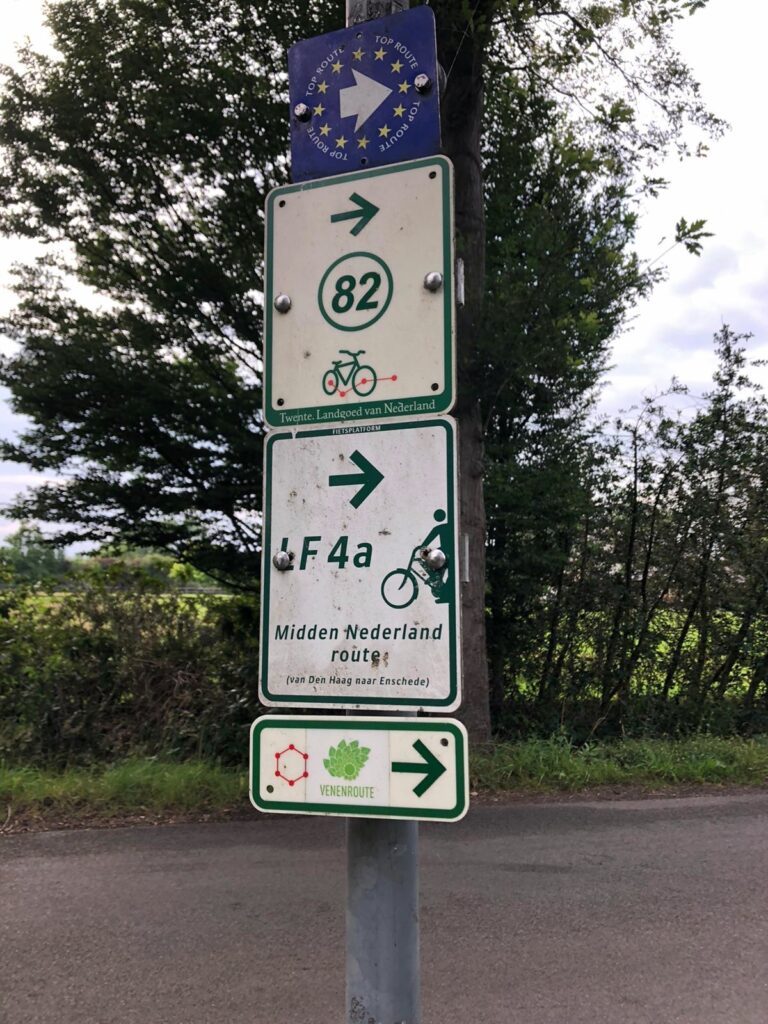 To properly signpost all these biking trails they invented the nodes. The whole system of nodes was invented somewhere in the eighties by a Belgian mining engineer. With these nodes you can easily plan and follow your own trail. Every node has its own number and by noting these numbers a trail arises or you can just follow an existing trail. The Netherlands has about 8500 nodes and you can recognize them by the white and green signs.
The weather gods were favorable to us today, we had a beautiful sunny day while cycling through this beautiful landscape of Twente. There was so much to see, forests, moors, burial mounds, sand drifts, rivers, streams, wooded banks, grain fields, beautiful estates, antique farms and quaint villages. Not to mention the cows, sheeps and horses.
I don't know about you but always when I'm on the road, something funny, strange or special happens. Today, while looking at a fennel with a lot of birds a man passed us. So far nothing wrong with that. But this man ran next to a horse with a little boy sitting on top. I asked the man who ran faster, he or the horse ( picture a man running next to a galloping horse), when he told me he had been on the road for almost three hours and it lasted another hour before he got home. A quick calculation told me this man must have ran, walked about 12 miles with the horse! Before I knew it he was gone and I didn't get the change to ask him why walk, run 12 miles with a horse?
Coffee and a slice of apple pie
It is good practise in the Netherlands that if you go cycling, you make a stop on the way and drink a cup of coffee and a slice of appel pie, with a dot of butcher cream. I know that's nowhere in the mealplan of MPC, but who does not treat sometimes? To somewhat limit the damage we ordered one piece and two forks. What I didn't know then and what I remembered later that day, I should have taken a whole piece! You see later that day I sort of ran out of fuel ( my blood sugar ran low) and we had to make another stop to eat something. And you know what is the stupidest, I always have something with me, healthy snacks to avoid such moments. Not this time!
Hiking
Of course we couldn't finish the weekend without hiking. On Sunday morning we did a beautiful walk. On our way we passed "Waterpark Het Lankheet". This park looks like a the ricefields you find in China, only here there were reed beds. It purifies water from the nearby "Buurserbeek". In this water park there are several kidney-shaped ponds, these interlock like a yin yang figure. The whole thing was created by a Scottish artist, Jim Buchanan. It reminded us of the stepping stones we saw so much on the West Highland Way.
And as always a beautiful weekend came to an end. A weekend with family, with the life we love. And hopefully with this blog we shares some of our adventure with you!