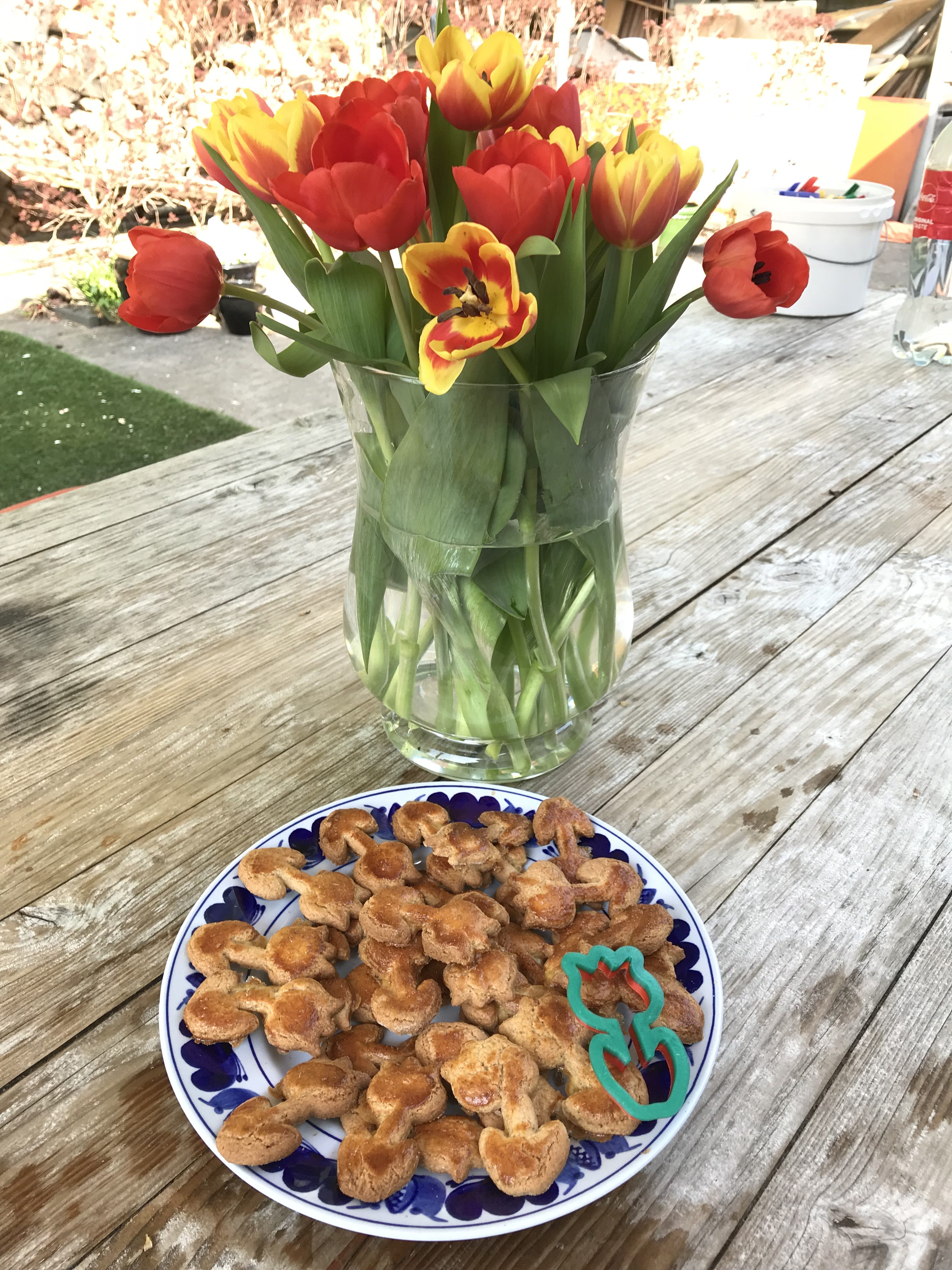 A Dutch Peaker Tulip walk
A Dutch Peaker Tulip walk
A Dutch Peaker Tulip Walk
In the garden
Tulips grow
Straight and golden
In a row.
Each one holds its
Empty cup
Drinking rain
And sunshine up
-V.W. Lachicotte
Tulips and I have always had some sort of love-hate relationship.
There isn't a season I don't love, but when winter is coming to an end, the early spring sun warms the day a little and all the spring flowers come crawling out of the black fields, I long for the summer to come. The variety of colours displace the last bit of winter's darkness and let you know that it will only get better every day from this moment on. Days grow longer, the sun gets stronger and nature awakens. To bring this feeling of early spring into my house, I buy tulips; mostly red ones, but also yellow, pink or purple ones.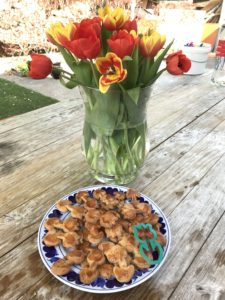 The hate part of the relationship is based on me putting these lovely flowers into the wrong vase, cutting them off in the wrong way, or putting them in the wrong temperature of water. I am no florist. Within no time my tulips are hanging down, and the original beauty of the flower is gone. Over the years I have learned more about caring for my tulips, and so my love for this flower grew.
Whenever I walk, cycle or drive through Flevoland in these days I see thousands and thousands of tulips everywhere I look. Flevoland has over 5000 acres of tulips. That's about half of the tulips in the Netherlands! Knowing that, I couldn't leave this subject unwritten.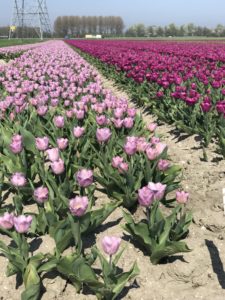 Most of my stories pop in my head by seeing something, such as a phrase in a book, a line of a song or just a word from a friend. This time my story began in January when my love and I were walking in Egmond at Sea, a village in another region of the Netherlands. He pointed out the tulip fields that the area was well known for. We discussed that our region also has a lot of tulip fields. Just few weeks later as I was walking with a friend, she told me that there was a walk called The Tulpenbollenroute. That's when my new blog was born (in my head).
The coincidences got a little bit creepy because another few days later when I told somebody at my job I was going to write about the tulips, she gave me an invitation to a workshop painting tulips. Although I'm far from an artist and my drawings look like those from a toddler, I spontaneously signed up for it, and so another story was born.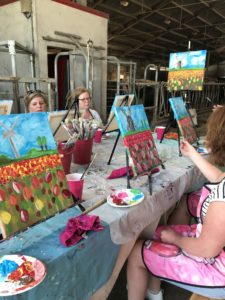 A little bit of history
Did you know that the word tulip comes from "tulipa", meaning the flower that looks like a turban? Men in the Middle Ages wore turbans in Turkey, and that's exactly where our tulips originally descend from (Hortus Botanicus).
Tulips were brought to the Netherlands in the late 1500s from the Ottoman Empire and planted in the botanical gardens at the University of Leiden. The trading of tulips began when the tulips were stolen from the garden. Up until a hundred years ago, tulips were rare and expensive.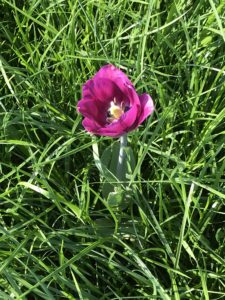 Every year in October and November, the tulips are planted. Tulips require specific growing conditions. They will never bloom if they haven't had a cold winter and after that a little bit of warmth. Originally they were planted in a sandy soil, because it was very difficult to harvest them from clay soil. Nowadays they do come from clay soil because it produces better tulips and makes the bulb stronger.
For the farmers in Flevoland, the flower on its own is not very interesting; it's the bulbs that matter. By Kingsday, at the end of April (if the weather is on our side), the tulips are in full bloom and that's exactly the time for the farmers to cut the flowers from the bulbs. Cutting the flowers off directs all the energy and nutrition into the bulb, which is important. These bulbs are reaped by the end of summer, layed out to dry and thereafter peeled. Almost every teenager in Flevoland has done that as a side job. It's a horrible job, and your fingers get very ugly from doing it, and it doesn't pay off that well.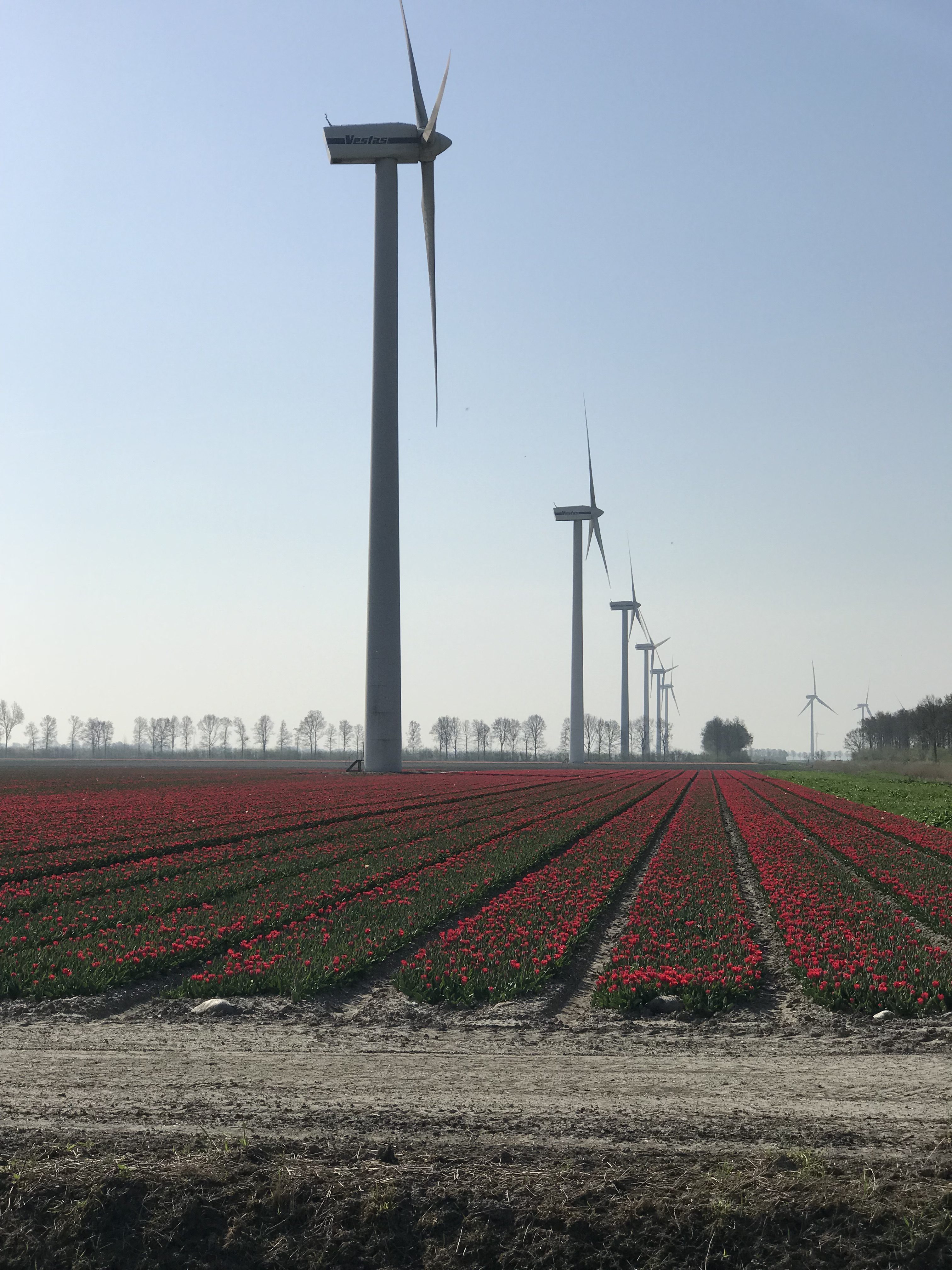 Walk through the fields of tulips
With the sun high up on the sky and knowing that it's almost the end of April, I walked through Flevoland with a couple of my friends to enjoy the beauty of the tulips. I couldn't have picked a better day! If I had done this one week before, I can assure you that there would not have been a flower to been seen. It has been cold for a long period and, as I mentioned, the tulip needs warmth and sunshine to open up. You might think, "Don't we all?" Yes as a matter of fact we do; at least I do. I also think that somebody in the universe knew that I was eager to show you more of the beauty of my backyard, because for the whole week it has been beautiful weather with high temperatures.
We started our walk in the area called Rivierduinengebied, an area north of Lelystad and Swifterbant. When this area was created they stumbled upon an prehistoric landscape. An old calf barn has been transformed into an educational centre where you can learn about this area and its creation. The farmyard also has beautiful and creative hotels for insects and bees.
As we walked through the fields of thousands and thousands of tulips, we got an added treat. We passed a farm where they invited us to come and look at their cows and calves. We were lucky: just ten minutes before we arrived a calf was born!
Back at the barn we enjoyed our cup of coffee and moved on to our next stop: the Shortgolf (Swifterbant). We ate lunch and watched other people playing golf on the green. I'm not a golfer myself, but on this course you can play without having a license to play. Maybe I should go back one day and try it.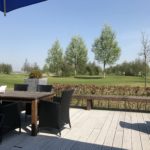 After a nice lunch we continued on for the surprise of the day: painting our own tulips. Sometimes you need to leave your comfort zone and do things you thought you were never able to do. A lady taught us how to make a landscape of tulips. In the instructor's painting there was an old mill, but since there are no old mills in my region, I included one of those modern windmills. It was there and then, sitting in a livestock stable with the smell of cows all around me under the watch of a cow who was about to give birth, my love-hate relationship with our national pride became more and more a relation of true love.