The Challenge of a Peaker Yet to Come
The Challenge of a Peaker Yet to Come
To a long life and a merry one
A quick death and an easy one
A pretty girl and a honest one
A stiff whisky and another one
-Outlander S1 eps.13-The Watch
For those of you who have watched Outlander, these four phrases must sound familiar. In fact there's nothing Scottish about it; actually it's an Irish saying, and the last line has nothing to do with whisky but should be, "a cold beer and another one." But who pays attention to such a small detail? As my love would say, as long as there's alcohol in it… To me these few phrases sound almost the same as celebrate love and life. Now that I have achieved my challenge, it's time to take stock, to fill in the last pieces of the puzzle I have been trying to make for the last couple of years.
For our first post-challenge activity, we went back to Glasgow, to enjoy the city for the last couple of days before we went back to our every day life. And how can we celebrate our victory better than by visiting the Clydeside Distillery?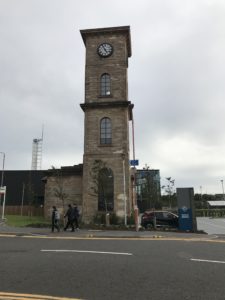 The old pumphouse by the River Clyde is nowadays a new whisky distillery in Glasgow. At this distillery they brought together the best of the old and the new. They're using traditional techniques to make new Clydeside Single Malt Scotch Whisky. Unfortunately I can't tell you how it tastes, for the distillery just started at the end of 2017, and the first whisky will not be ready for another 3 years at least. I have no shares in this company but I would certainly recommend a visit if you're in town.
After our visit we decided to walk down the River Clyde towards People's Palace. On our way there we walked under the King George V bridge designed by Thomas Somers and opened in 1928. Standing under this bridge is quite impressive. Walking further down the Clyde we passed a lot of bridges: Tradeston Bridge, South Portland Street Suspension Bridge, Victoria Bridge and Albert Bridge. The one I liked most is the St. Andrew Suspension Bridge. You can't miss it for it's a very blue bridge.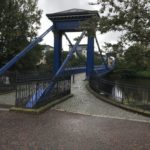 And so we walked into Glasgow Green to pay a visit to the People's Palace, a place intended to provide a cultural centre for the people and a museum of social history for the City of Glasgow. It tells you the story of the people and the city from 1750 up to now. As we walked around on the second floor, we got caught up in the story of the Barrowland Ballroom. We listened to stories of people who came to Barrowland to dance. Dancing in the weekends could mean you were going to meet your love. The place was very popular and so very crowded on these dancing evenings. It was this place, Barrowland Ballroom, were we began to contemplate the end of our holidays.
We had bought ourselves tickets to a concert of Passenger that evening. He is a British singer-songwriter who has a very unique voice and of whom you can hardly hear the difference between singing on a record or live. With just a guitar he sings songs which makes you almost part of the lyrics. You can feel the pain, the bitterness, the depression but also the love, the joy as he sings. In a short time I became a true fan of his music, but even more of the pureness with which he stands on the stage. There was no better way to end our journey than listening to him on our last night in Glasgow.
As I told you at the beginning of this last story of my holiday to Scotland, completion of the challenge means it's time to take stock. These last two years were a journey. I was looking for healing in the last two years, and I found it. The first piece was by healing my mind and letting go of all of the burdens I had been collecting in the past five years. Did I have a plan? No, most of what I did was a feeling, something that came into my mind and of which I thought at that moment was best for me. I started writing my story, and when I got rid of my burdens my body was worn out. The second piece then was to get my body into shape again. I went to the local gym, Leisureworld Fitness. I'm so pleased that they were able to help me to get where I am today in pretty good shape. Had it not been for all the instructors over there who helped me in this past year, I don't think I would have been able to walk the WHW.
Just before I left I knew there was one last piece left for me to do, lose weight. Until then I had not succeeded although I tried very hard. It frustrated me. But I didn't know what to do anymore until I met another Dutch Peaker, Brenda van Wegen, who specialised in a sugar-free life. But that was not what attracted my attention. Brenda had another specialization, women and menopause. Somewhere deep inside I knew that part of my problem lay within this issue.
I payed a visit to Brenda just before I went to Scotland and finally I had the feeling I was heard. She listened and brought up examples that were so recognizable. I felt lighter after my first visit.
After I had written down everything I ate, and at what time, for four days, there was finally an explanation why, despite my healthy meals, a lot of fitness and walking, I did not lose any weight. I felt so relieved.
In the last five years I had built up so much stress that my muscle mass broke down, and when I rested my body didn't burn fat, it burnt energy. My blood glucose levels stayed high and insulin circulated in my blood which gave me a hungry feeling and increased my fat storage.
It all sounded so familiar to me and it made clear why I had not succeeded losing weight in my period of the black hole.
Brenda put together a mealplan for me and already after a week I had results. My third piece of the puzzle was progressing, and I was even able to lose weight. Can you imagine how happy this made me? I started about six weeks ago and I have already lost 7kg (15lb). Now you know why this last story is called "The Challenge of a Peaker Yet to Come." I am not half way there, but I know I can beat this challenge!