Under the sea
Under the sea
Under the sea
Under the sea
Darling it's better
Down where it's wetter
Take it from me
Up on the shore they work all day
Out in the sun they slave away
While we devotin'
Full time to floatin'
Under the sea

-From the movie: Little Mermaid-
Little Dutch Mermaid Peakers
Who would have thought, that when Disney made the movie 'Little Mermaid' in 1989, almost 30 years later a group of Dutch Peakers would try to transform themselves as mermaids.
Well if you had asked me that question then, I would have laughed really hard. And if you told me that I was one of those Peakers who actually became a mermaid, I would have laughed even harder. But seriously, last November 2017 we did just that. We got together in Oosterhout and became mermaids for an hour or two.
We swam like mermaids in a pool while we devoted our time floating.
I have been fascinated by water ever since I was a child. Maybe it's not that odd if you know that I am born in February, and therefore I'm an Aquarius.
In my youth I did a lot of swimming. Growing up I had asthma and my parents always encouraged me to work out, so I did a lot of different sports.
I have lived my whole live in Flevoland, a region in the Netherlands that has been reclaimed from the sea, and is about 13 feet or 4 meters below sea level.
Now maybe you understand my fascination for water. And we do have a lot of it in the Netherlands.
Flevoland

As I told you in my blog 'Dutch Peaker in Glasgow' I went to Scotland in September 2017. Scotland is such an amazing and beautiful country that sometimes I wish I was born there.
But, to find beauty and be amazed, you need not go far from home. Beauty is everywhere around you. You only have to open your heart and eyes to feel and to see it and get amazed by its beauty.
So I decided, my challenge for 2018 was: going for walk in my own country and visit all 12 regions and discover the beauty of the Netherlands. In this post I start with the region I have lived in almost all of my life; Flevoland
31 Years ago the Netherlands were divided into 11 counties and a 12th one was included; Flevoland.
Flevoland was assembled of 'Noordoostpolder', 'Oostelijk-' and 'Zuidelijk Fevoland'. Lelystad became its capital. Flevoland was developed by draining parts of the former Zuiderzee.
Our first walk was on Schokland.
Schokland
Schokland, a long time ago, used to be an island and is now a part of Flevoland. Schokland is a mysterious, archaeological monument. Its soil is full of beautiful mineral resources. It's a place between land and water, for centuries long inhabited by people up until 1859.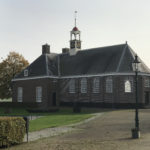 Nowadays Schokland is designated as a cultural World Heritage site (UNESCO). And this really beautiful place is only, if you go by car, a half hour away from my home.
Honestly I'm a bit ashamed to tell you that I can't remember when I last went there. I must have been a teenager or even younger.
There used to be two churches on Schokland, one catholic and one reformed. Only the latter is still there having been restored throughout the years, and is now a beautiful church in the landscape.

As we walked across Schokland I was really amazed by the beauty of this former island. You can see remains of the old houses and the harbour but also a lot of old rocks from the ice age.
On our walk there were moments of total silence as we inhaled the history around us.
Urk
Almost at the same distance from my house is a second former island called Urk. Urk in Holland is well-known for its fishing and for being a village with a very strong religious community. I'm not a big fan of fish, so maybe that's why I don't visit there very often.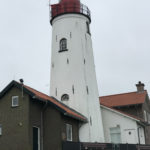 The last time must have been when my in-laws were still alive. They loved eating fish.
Our visit this time took us on a walk across the old village and along the IJsselmeer, through the woods, along the newest part of town and back into the old part.
I was amazed by the beautiful historic houses, churches and buildings in the old part. There were a couple of lovely views into the harbour as we walked towards the lighthouse.

Those who have been to the Netherlands and have visited Flevoland, know we have a lot of wind turbines, and that some of them are even built in the water. When they were first built there was a lot of discussion about whether they would damage nature and the sight of the old fishertown, and also the open character of the IJsselmeer. However, I think you should judge for yourself.You can't go to Urk and return home without any fish so I took some herring with me for my love.
Voorsterbos
The next walk in the Noordoostpolder was in the woods near Kraggenburg called; Voorsterbos.
On Schokland we walked through an almost flat landscape, on Urk we walked a large part through the village, whilst this part of our walk took us through the woods. As I told you before you have to open your heart and your eyes to feel amazed and see the beauty in your own backyard. It was on this walk, I realized the meaning of my own words.

Voorsterbos is a wood that was made in 1944 and contains of all sorts of trees. We've seen coniferous trees, beech trees, oak trees and a lot of bushes, like Euonymus.
As you have read, I don't devote my time to floating under the sea, I have been devoting my time to exploring my own backyard and discovering the beauty of it. I've been amazed by the views I get to see so close to home, which is all below sea level!
There is so much more to tell you about my region Flevoland but I will keep that for another post.